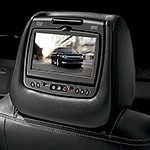 Our Gurley Leep Ford team loves to help our customers find a vehicle that makes them feel great. The Ford Flex is full of comfort-enhancing features that will make traveling a relaxing experience. The following amenities will help you and your passengers feel refreshed during your next trip.
Whether you're driving down South, Bend IN streets, or the coast, a car full of passengers fighting over seating is less than ideal. This is, unfortunately, an issue in many vehicles but not the Flex. Flex passengers enjoy their choice of up to seven seats.
The chaos of passengers climbing over one another to move throughout the vehicle is another pain of large group travel. If you choose the optional second-row bucket seats, passengers can pass through the seats instead of over each other. The Ford Flex can help you, and your passengers ride in comfort.