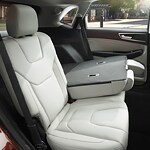 If you're not yet familiar with the Ford Edge, it's time that you got to know what this popular midsize SUV has to offer. The newest models of the Edge are on the lot at
The Edge's singular chassis design conveys power and control. The aerodynamic profile and large-scale wheels act as perfect complements to the unique front grille and headlamp assembly, and a diverse color palette affords every owner the opportunity for personal expression.
Under the hood, the Edge is outfitted with a capable six-cylinder engine and an eight-speed transmission that combine to supply power and performance to spare. All-wheel drive is available on some Edge models while a high-quality suspension system comes as standard equipment across the lineup.