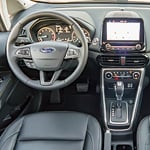 If you're really concerned with how much you're going to get out of your dollar when it comes to car-shopping, then the Ford EcoSport might be an excellent pick for you. This compact crossover vehicle defies the genre a bit with its inclusion of many different available luxury features, which range from the fun to the extravagant.
The EcoSport comes equipped with some standard amenities like the B & O Sound System, which is certainly an upgrade from your normal car stereo. This system boasts over ten different speakers and was designed solely for the EcoSport itself! Besides standard features, the EcoSport has available things like the SE Convenience Package, which will add a number of amenities to your EcoSport, ranging from extra charging ports to a navigation system.
To see if this compact crossover vehicle is right for you, come test drive the Ford EcoSport yourself here at Gurley Leep Ford.